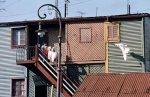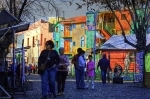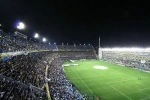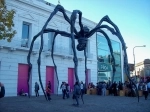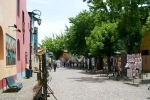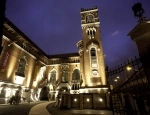 The neighborhood of La Boca. Buenos Aires - ARGENTINA
La Boca neighborhood is the most visited by foreign tourists but also is one of the poorest in the city. Its people have a strong sense of belonging to the neighborhood and often participate in various community activities.

It is not possible to speak of La Boca without talking about football. This sport is part of the daily life of the neighborhood and especially the Club of Boca Juniors. This football team has its stadium in the heart of the neighborhood and creates a real passion among neighbors.

History of Boca:
La Boca was born as a natural port in the Riachuelo. Since 1870, La Boca began to receive large numbers of immigrants, mostly Italians (Genoese). The immigrants built their houses with corrugated iron and painted with paints that were left in the workshops of the port, for this reason the houses were very colorful, today this custom is kept in some sectors of the neighborhood. The houses were called "tenements" were dwelling where many families lived sharing common spaces.