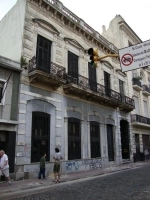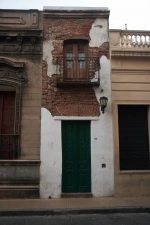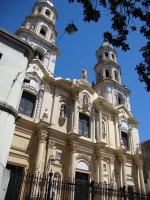 San Telmo neighborhood. Buenos Aires - ARGENTINA
The neighborhood of San Telmo is part of the historic center of Buenos Aires. San Telmo is famous for the antiques market (flea market) which is held every Sunday in Plaza Dorrego.

San Telmo was the area where the first inhabitants settled, it is the oldest district of the city. Originally, it was inhabited by aristocratic families of Buenos Aires, until the epidemic of yellow fever of 1871 forced to move north.
San Telmo is part of the historical heritage, so there are laws that seek to preserve the architecture. Century-old houses, old churches and cobbled streets which stands trams circulated in the neighborhood.

The center of San Telmo is the Plaza Dorrego, around many cafes, restaurants and antique shops are concentrated. The bohemian life and tango are part of the atmosphere of the neighborhood.

The neighborhood still retains the essence of the old Buenos Aires. In San Telmo you can find a bar where you listen to tango and drink coffee or wine or beer with the neighbors. San Telmo is a neighborhood of choice for many artists and craftsmen to live and perform their works.