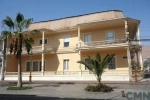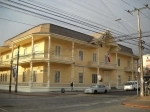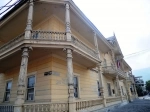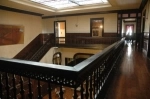 Astorteca Palace. Iquique - CHILE
In the beginning of the 20th century, the salt peter industry was at its peak. Early in the 1900s, Iquique experimented an economic boom due to important innovations in the saltpeter production process, which was exported to several countries in Europe.

There were 170 saltpeter mines working at that time. The mine owners built their houses Georgean style in Iquique, especially on Baquedano street. It was in that period (1904) when the Palacio Astoreca was built.

The construction was financed by Mr. Juan Higinio Astoreca, owner of several salpeter mines such as: La Granja, Felisa, La Aurrera, and Iris. The Palacio Astoreca was built entirely of Oregon pinewood.

Its design is inspired in the Georgean style. It has 27 rooms decorated with furniture of different periods. Some of them are, Neo-Louis XVI, Art Noveau, Neo-French Renaissance. The Palacio Astoreca is certainly an architectural wonder and can be visited by all people that want to admire the greatness of a glorious period.