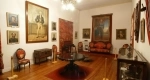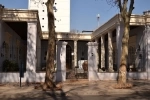 Cuyo Past Museum. Mendoza - ARGENTINA
In step by Mendoza, we recommend visiting the Cuyo Past Museum to learn about the roots that shaped the people in these latitudes of Argentina.

The Museum of Cuyo Past Dr. Edmundo Correas was inaugurated on May 24, 1967 as a place needed to make visible the regional history of the provinces of Mendoza, San Juan and La Rioja, whose study is specifically doomed the Board of Historical Studies Mendoza. It occupies the building that belonged to don Francisco Civit, former governor of Mendoza, and was declared a National Historic Monument on November 12, 1970.

In total, the museum occupies sixteen rooms and four courtyards. In walking them, history seems to be recreated in the various environments evoking certain historical moments in the region. Period furniture, paintings, documents and objects of use are some of the elements that take visitors to the nineteenth century.

Besides making history alive, it is met in order to preserve the objects inherited descendants and relatives of the original owners. These same serve as valuable testimony of the past to the present cuyano researchers and for future generations.

Among the rooms you can enjoy the archaeological room, oil in Mendoza, religious room, Cuyo, weapons, the room dedicated to the unitary and federal, independence, the civil governor and are among one of the most crowded, is the room dedicated to the Liberator Gral. Jose de San Martin, where you can see an exact replica of his curved saber.