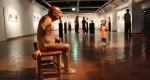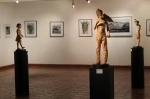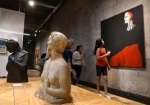 Municipal Museum of Modern Art in Mendoza. Mendoza - ARGENTINA
The MMAMM the August 8, 1967 is created in response to the intense demand for the large population of artists in our midst. It starts with two major grants from the National Endowment for the Arts and local artists. Its first headquarters was at Spain (current BUCI building). Then in 1973 he moved and worked for years in the current building of the Ministry of Tourism of the Province, San Martin Street 14. Finally, during the first term of Dr. Fayad, the August 30, 1991 is inaugurated in the current location.
< br />


In the current building, from its hall you can access the Library and Showroom. The latter is a large space divided in the middle by a double row of columns by plotting two spaces of 31 meters long and 8 meters wide: the West and the East living room, both intended for temporary exhibitions. It also has a store keeper of the heritage work, which includes a rich heritage collection with works by great Argentine artists like Berni, Spilimbergo, Gambarte Perez Celis, Crivelli, Quesada, Scafatti, Hoffman, among others.
< br />


Its Standing room is devoted to art from 1930 to Mendoza now, and includes painting, ceramics, drawing, sculpture, etc. Temporary Exhibitions The room is intended for individual or collective exhibitions and the production of cultural events. Engraving Gallery contains a selected equity exposure based on various techniques, culminating in the History Collection Woodcut. In addition, among other possibilities, the museum offers the Ricardo Tudela library, multipurpose room and video room.