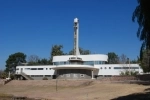 Museum of Natural Sciences and Anthropology Juan Cornelio Moyano. Mendoza - ARGENTINA
It is one of the most important of Cuyo. In the building of the former spa "Playas Serranas" lakefront there over 40 thousand copies are displayed in sections of Mineralogy, Palaeontology, Anthropology, Ethnology, Archaeology and Zoology. It has a library and archive.

Location: Beltway Carlos Thays and Las Tipas Avenue, General San Martin Park..
Tel: (0261) 428-7666.