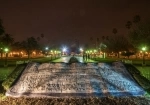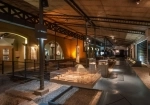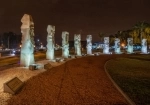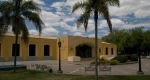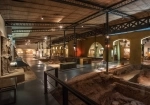 Foundation Area Museum - MAF. Mendoza - ARGENTINA
Mendoza was founded on March 2, 1561 by Pedro del Castillo. Much of the city was destroyed 300 years later by an earthquake. Few buildings left standing, one of them are the ruins of the Church of San Francisco, located in the street corner Ituzaingó and Beltrán.

The Municipality of the City of Mendoza made a major effort and hard to recover and preserve its architectural heritage. Plaza Pedro del Castillo treasures found in the excavations, the remains of the original colonial Cabildo and the source of water that nourished his remodeled old settlers. In this land where Mendoza was founded it is also the Museum Area Foundation (MAF) where you can see inside excavations with remains of the ancient city, has expográfico design public with mobility and visual disabilities

This is only one of its kind in the city archaeological museum "site and interpretation". Its main objective is to protect and display the material remains found at the site belonging to our heritage. The permanent exhibition on display through various teaching aids, Mendoza phases of territorial settlement and growth of the City.

On the north side of the Museum it operates a cafe specializing in typically cuyanas restaurant meals. The Museum has a boutique where you can buy regional products, crafts and books. The area has a monitoring service with support monitored through localized inside the square and cameras.

Subterranean Chamber

The Subterranean Chamber protects the ruins of the fountain built in 1810, whose function was to supply the population with water from springs Challao, located 12 km west of the City. The water ran through an aqueduct whose remains can also be seen in this camera.

Above the source of the nineteenth century the source of 1930, built above the first remains. Next to the colonial power and one meter below the level, the remains of a stove provides evidence of the presence on our soil Huarpe 2,000 years before the conquest.

Cost: General admission $ 20, children under 12 accompanied by an adult and students with ID $ 9 $ 8 delegations, over 65, disabled, and children under 3 years free schools. Wednesday free admission. The MAF does not open its doors holidays: March 24th, May 1st, December 25th and January 1st.