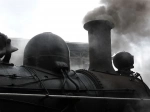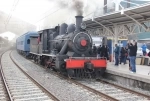 Locomotive No. 607, Type 57. San Fernando - CHILE
On 25 Diciembrre of 1851 with the inauguration of the train that linked the stretch Copiapo-Caldera, Railroad history begins in Chile, the second half of the nineteenth century, the period of consolidation and expansion. The south line begins to build in 1855, arriving on November 3, 1862 in San Fernando.



In the late 1860s began to build the rail spur connecting San Fernando with Pichilemu, delaying 60 years to complete, comes to the resort on January 5, 1926. This section was suggested by Henry Meiggs and work done by Alejandro Guzman INGIENERIA Schremser.



Various locomotives serving in Region VI, the most suitable for Pichilemu branches such as the Type 57.



The State Railways (EFE) ordered to do 40 of these locomotives from the North British company in Glasgow, Scotland. Later, he ordered its construction to the German company Henschel, another 26, so that finally between 1913 and 1914 were constructed in waltz, in the Arsenal and galvanizing Caleta Abarca, 30 others. The 607 is one of the latter.



Locomotives type 57 is characterized by having no problems on tight turns or steep slopes as the branch that has the San Fernando-Pichilemu. It weighs 84 tons, measures 15.5 meters long and can develop a maximum speed of 60 to 80 mph.



The 607 served in the branch until 1948, when it was moved to the area of Concepción. In 1977 he was resident in Osorno, making their last tours in 1983 in the Temuco area. In 1987 he was transferred to San Fernando and cosmetically refurbished by the students of Professor Victor Leon, active and retired railroad, with the support of the Municipality of San Ferando and ACCPF For many, the next challenge is to make her walk again.