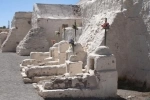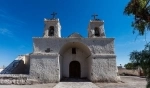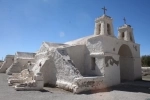 Chiu Chiu Church. Chiu Chiu - CHILE
The people of Chiu Chiu is situated near the confluence of the Rio Salado and the Rio Loa, an oasis in the prehispanic era concentrated Atacama large population, and that was part of the route of the Inca Trail. The place was soon conquered and evangelized by the Spanish, who founded the Indian settlement near the present village, with the name of Atacama La Chica. In 1611 it was already a parish, under the patronage of St. Francis of Assisi, under the Archbishop of Charcas (Alto Peru). The village became the principal mission center Loa Valley.

Chiu Chius Church was built in the mid seventeenth century. His plant has a Latin cross, and the ship measures 27 meters long by 5 wide. The thick walls are made of adobe and are 1.2 meters thick. The roof is a truss assembled Chan, mesquite and cactus, to which clothing but no nails were used leather ropes, she was placed on a thick covering of mud and straw.

Central access consists of a deep vault, which opens across the width of a rectangular solid and heavy volume which forms the front of the temple. The main facade has two towers of stone were installed in 1965 as part of a restoration undertaken by the Department of Architecture of the Ministry of Public Works, replacing a wooden one, since the nineteenth century, after the original collapsed. The widening of the outer wall is tiered and provides access to the towers and appreciate muddy from the ceiling.

The church stands in a walled compound within which there are graves. Located inside the beautiful temple colonial imagery; highlight the crucified Christ is taken in procession and two-sided box with the image of Christ lacerated.