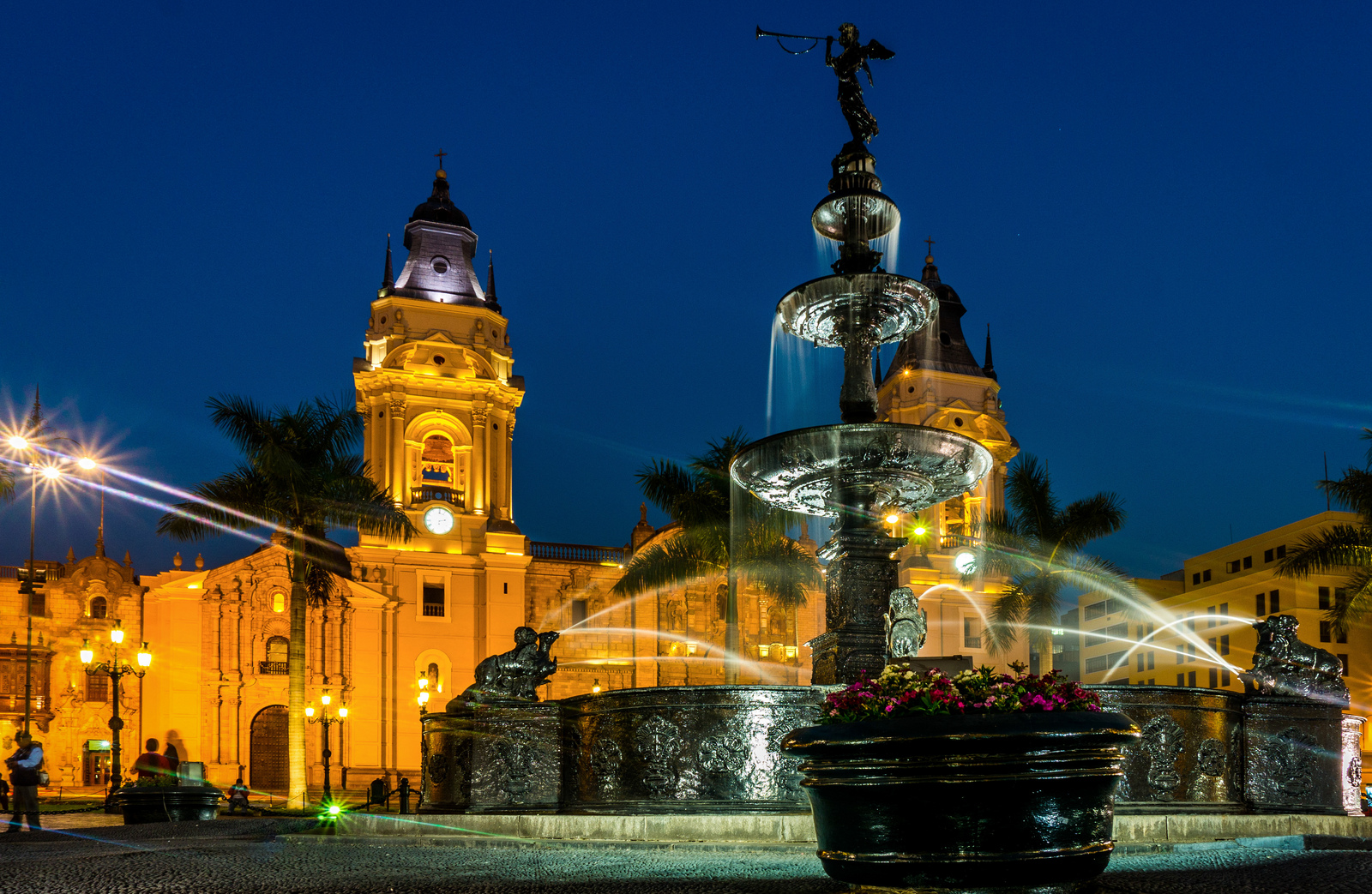 DIA 1:
LIMA
Al llegar nuestros colaboradores lo recibirán y trasladaran a su hotel. Se les entregara un Kit de documentos, y se le dará la explicación del itinerario detallado y recibirán asistencia para su equipaje y para el registro en el hotel.
Alojamiento en Lima.
Free afternoon.
Accommodation in Lima." />

DIA 2:
LIMA
Breakfast buffet. In the morning excursion to know Lima and its history. Our tour presents Lima in its three historical periods: pre-Hispanic, colonial and modern. We start our tour with a panoramic view of the "Huaca Pucllana", a magnificent ceremonial and archaeological center built in the 4th century AD. and considered "sacred town" by the Incas. The viceroyalty of Peru was the most important in the Spanish Empire and Lima was its capital. We visit the Historic Center of Lima, where you will appreciate more than fifty monuments and colonial buildings, highlighting the Paseo de la Republica, Plaza San Martín, Plaza Mayor, the Government Palace, the Archbishop's Palace, the Cathedral Basilica, the Municipal Palace among others. We visit the MUSEUM OF THE CENTRAL RESERVE BANK *, here you will appreciate the "Treasures of Peru Collection", a select exhibition of gold, ceramic and textile objects from various pre-Colombian cultures. We visit the MONUMENTAL SET OF SAN FRANCISCO, which is the largest sample of colonial religious art in America. The visit to its underground crypts known as "Catacombs" stands out. We will visit the most traditional residential areas of Lima, El Olivar de San Isidro, Miraflores and Larcomar.
Free afternoon.
Accommodation in Lima.

DIA 3:
LIMA / CUSCO
Desayuno.
En horario oportuno traslado al aeropuerto para abordar el vuelo a Cusco. A su llegada, recepción por nuestros colaboradores y traslado al hotel. Bienvenida con el mate de hoja de Coca, infusión que nos ayudara a aclimatarnos. Resto de la mañana libre para descansar en el hotel para evitar el mal de altura (3300 mts). Por la tarde, Visita de la ciudad imperial del Cusco. Nos dirigiremos a la Plaza de Armas del Cusco, Awqaypata o plaza del guerrero fue llamada en tiempo de los incas. Ingresamos a la Catedral, que atesora obras y pinturas coloniales invaluables, como la Cruz que llegó con los primeros conquistadores. Continuaremos al Korikancha,

DIA 4:
CUSCO / WAYLLABAMBA
Breakfast. We leave early by road to the town of Chillca (km 76) in the Sacred Valley of the Incas. In this place we find our support team that will accompany us during the walk. At this point our great adventure begins following in the footsteps of the ancient Incas. This day the hike is not very forced, having a splendid view of the snowy Verónica and the Inca terraces in the area. Passing through the Llactapata ruins and continuing through the Cusichaca valley, we will arrive at the town of Wallaybamba the last on our journey.
We will camp on the outskirts of this town.
Full board.
Total walking hours: 4:30 / 5:00 hours
Total number of kilometers: 12 km.
Initial Altitude: 2,750 meters.
Final altitude 3000 meters.

DIA 5:
WAYLLABAMBA / PACAYMAYO
After breakfast, we start our adventure again. The path will initially be surrounded and in some parts covered with vegetation, but as we go up it will change, appreciating the different ecological floors that Peru has until we reach the Warmiwañusqa pass, the highest point in our journey (4,200 mts) from here we will be able to appreciate the peaks of the snowy Huayanay (5,250 mts.), crossing this pass we will descend to the Pacaymayo valley, where we will set up our camp, having a spectacular view of the snow-capped mountains.
Full board.
  Total hours of walking: 7:30 / 8:00 hours
Total number of kilometers: 13 km.
Initial Altitude: 3,000 meters.
Final altitude 3800 meters.

DIA 6:
PACAYMAYO / WIÑAYWAYNA
This day the path will take us to the ruins of Runkurakay (3,700 meters), having a spectacular view of the falls of the snowy Palcay, and the path traveled the day before. We will pass through the second pass (3,900 mts) with a glimpse of the Vilcabamba mountain range with its main Pumasillo, Sacsarayoc and Panta peaks. From this point we will begin a slow descent, crossing the ruins of Sayajmarca, which are still covered with vegetation. On the way we will go through a tunnel formed by a landslide and worked by the Incas to make way. We will continue our way to the ceremonial center of Phuyupatamarca where we will have lunch. From this point, the descent is notorious, reaching the Wiñay Wayna ruins where we will camp near a hostel where we can take a refreshing hot shower.
Full board.
Total hours of walking: 10:00 am
Total number of kilometers: 15 km.
Initial Altitude: 3800 meters.
Final altitude: 2650 meters.

DIA 7:
WIÑAYHUAYNA / MACHU PICCHU / AGUAS CALIENTES
Breakfast. We will continue the path again reaching the Puerta del Sol or Intipunku, a place from where the view of Machu Picchu is incomparable, being ecstatic for its splendor (Congratulations they did it !!).
  Only 40 minutes separate us from the citadel. We will enter Machu Picchu and take a guided tour of this magical place.
Descent to the town of Aguas Calientes.
Night in a hotel in Aguas Calientes
Total hours of walking 2:15 hours

DIA 8:
MACHU PICCHU / CUSCO
Breakfast buffet. Free time. Optionally we can visit a second visit to the citadel and ascend to Intipunku, or the entrance to Machu Picchu on the Inca Trail; You can visit the impressive Huayna Picchu mountain, ascending it on a steep stone path, stroll towards the Inca Bridge, a secret passage used by the royal guards, or walk to the historic Puerta del Sol.

  In the afternoon, you will board the train back to Cusco. Upon arrival, our collaborators will wait for you at the Poroy station, from where we will transfer you to your hotel.
Accommodation in Cusco.
DIA 9:
CUSCO / LIMA
Breakfast. In due time, transfer to the airport to board your flight with an international departure.

SERVICIOS REGULARES DE CAMINO INCA INCLUYEN
Bus Cusco / Chillca
Inca Trail Entrance Km 88 / Machu Picchu
Guide
Common camping equipment: two-person tents, dining tent, toilet tent, tables, chairs and utensils for meals.
Porters for common equipment. (NOT for backpacks with personal use items, in case you want an additional carrier add USD 120 per carrier)
All meals during the trek, except lunch on the last day in Aguas Calientes.
Bus to descend Machu Picchu / Aguas Calientes.
Train backpackers Aguas Calientes / Cusco.
Transfer train station Cusco / hotel indicated.